A chicken restaurant running out of chicken is hardly ideal. Unfortunately for KFC, this nightmare became an inconvenient reality when a supplier disaster occurred, leaving KFCs all over the UK without their main, vital ingredient. After a tremendous backlash on social media from very let-down KFC customers, KFC had a lot of making up to do. KFC and Mother, the creative agency for this campaign, really pulled it out of the bag (or the bargain bucket) with this one. KFC issued a funny but ironic apology not only to their disappointed customers but to their employees who had to deal with the issue head-on.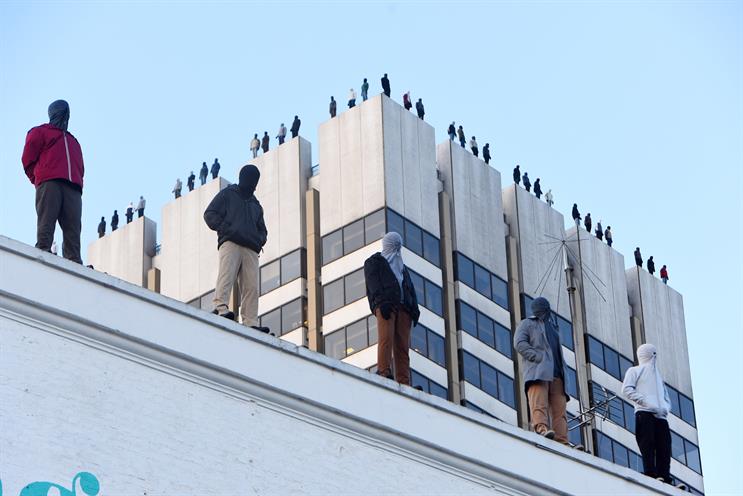 Stats prove that on average 84 men take their own lives every week in the UK. This campaign was a visual campaign in central London, which caught the attention of thousands of Londoners. The mannequins were all modelled on real victims of suicide, after hosting workshops with families of victims to make them as personable as possible. Consequently, this got a lot of people talking. There were 2.1 billion pieces of earned media, and over 36,000 Twitter mentions according to a Marketing Week study.
This campaign was hugely successful, as 34% more people reached out to CALM for help afterwards. The overwhelmingly positive response from this campaign raised tons of awareness for Suicide Prevention Week and has left a lasting imprint on society.
This series of print ads were created to 'highlight' the importance of women who have been hidden in the background in previous years. The aim was to 'rewrite history' and give women the attention they deserve. This resonated with a lot of women and won some prestigious rewards for its creativity. This was particularly successful due to the gender-pay gap being a topic of debate in 2018, and the ongoing rise of feminism throughout the year. It paralleled their brand values beautifully and made a lasting impression from what many would think of as 'just a pen brand'. The campaign broke records and soared on social media.
Although this is technically a 2017 campaign, we included it as it involves 2018 so heavily and was very well executed. It brought people's quirks and differences to light whilst connecting a society on one thing they all have in common, music. This campaign was funny, unique and seasonal which was ridiculously successful as an OOH campaign.
Users habits were sprawled across billboards globally by Spotify's in-house agency, which could have been a GDPR disaster. Using an in-house agency minimises worries that user data had been transferred without permission. It sheds a positive light on collecting user data despite the current GDPR situation (you can read our other blog about it here), which despite being a challenging task, was overcome by Spotify.  This is the best of digital analytics and successfully brings light to a not-so-light situation.
In their Follow the Arches campaign, McDonald's made a point of showing just how established and recognised they are. Not many brands could create a campaign by using small segments of their logo on individual billboards and still be communicating an obvious message to an audience. This campaign correlated nicely with the Grand Prix which was on in America at the time, so the tasteful timing boosted the success of the campaign.
McDonald's shouldn't be worried about any copyright violations as not many other brands would be able to pull off the same technique, since it's hard to compete with McDonald's brand awareness!
National Geographic is known for their exquisite imagery of wildlife and nature. In their 'Your Shot' campaign, they hand over the photography to the professionals all over the globe. This is designed to unite a niche of people over something they love on their platform. The photographers also have the chance to share the story behind the shot, bringing life to their images.
The campaign has helped people learn about other cultures, examine nature and get an insight into other life experiences. Monthly assignments get photographers inspired and directly involved with Nat Geo, and acts as a platform to meet people with the same interests. Nat Geo has successfully tapped into their audience love of social media and has received a lot of interactions online.
This advert pulls heartstrings in all the right ways. It tells the story of a young girl treating her mother to a Cadbury's bar of chocolate; however, she pays the shopkeeper in tiny toys. It aims to show that the most valuable currency is love and generosity. This connotes the strong brand values that Cadburys has held over several years and shows how far a small act of kindness can go.
The aim was to make people feel something for Cadbury's again, and understand what Cadbury's is about; bringing the nation together and highlighting its heritage. After a few years of underwhelming campaigns (since the gorilla…and the eyebrows), Cadbury's decision to change agency to VCCP for this campaign has paid off.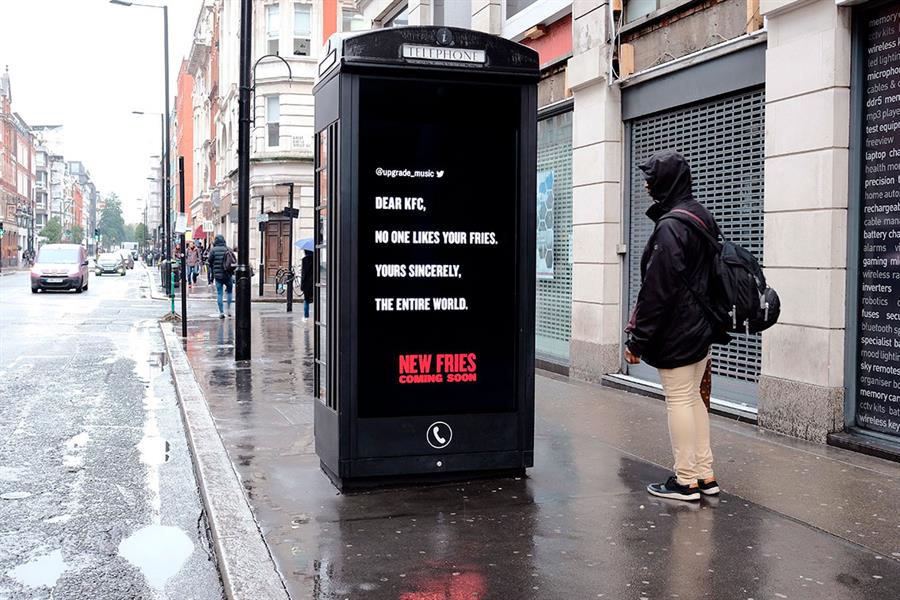 KFC took a never-before-seen approach to digital, print and OOH advertising when it comes to criticism. They began promoting people's negative comments about their fries on Twitter, so they received a higher reach from KFC fans. Why would a restaurant want to draw attention to people's negative opinions? Many were confused by this until they saw the genius advertising elsewhere. KFC was not to be beaten by their less-than-average fries and have instead launched a new recipe. This campaign was successful in spreading the word of new fries and made the people publicly slating their food probably feel slightly embarrassed. After this campaign and the FCK campaign previously mentioned, KFC has shown that they are not ones to hide from criticism, which makes them seem far more transparent and loyal to their customers.
In a bid to combat the ever-growing problem of plastic pollution in our oceans, Adidas teamed up with Parley to create a shoe made from 100% ocean plastic. The global-scale plastic problem has been brought to light over 2018 and people are making more sustainable choices out of concern for the planet, making it a perfect time for Adidas to launch this campaign. It ran across social media, print advertising, in-store and was also seen in cinemas. Partnering with a non-profit organisation taps into the brand's values of being authentic and transparent. The campaign was a huge success, with over one million pairs selling in 2018 alone. They are continuing to dominate social media with the hashtag #RunForTheOceans.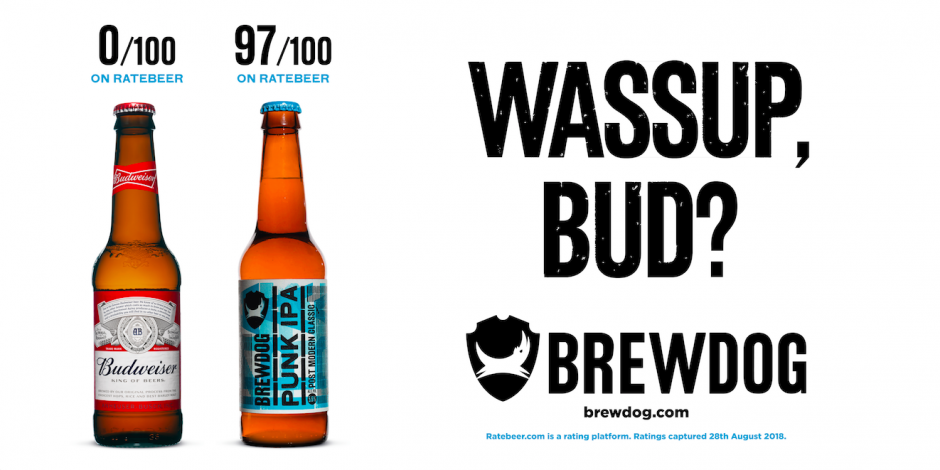 As a lesser-known or established brand, BrewDog took a daring swipe at its major competitors, Fosters, Budweiser, Carling and Stella. It did this through the ratebeer.com 'score' on more well-known beers, paired with some very effective copy. This was positioned to take a direct swipe at the competitors' values and established taglines, for example, 'Wassup, Bud?' and 'Good Call, Fosters?' This was done by the London agency Isobel, who got the attention of beer drinkers all over the UK. Some may believe that insulting competitors is an easy, distasteful way out, but we think this was done tastefully and with statistics to back up their point. They had to find a USP from somewhere, right?